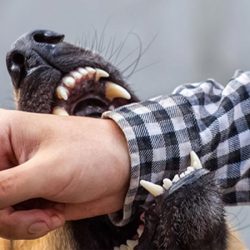 No matter what side of a dog bite you're on, it's true that people love their dogs, there's no denying it.  Some 45% of households have canine pets and the way that people treat their dogs is changing.  More are considering them companions, or "emotional support animals" and taking them out in public into areas where traditionally dogs have not gone.  The number of travelers who have dogs with them has also dramatically increased.  All these facts are supported by the increase in the number of people willing to pay for such things as health insurance for their pets and the amount of money spent on toys, etc.  But be careful, owning a pet might put you in the situation where you'll need a commercial lawyer.
There are more opportunities than ever now for something unfortunate to happen such as a bite or an attack. Emotions can run very high when someone is injured and when the dog owner has a strong connection to the animal. If you have been bitten, or attacked by a dog it's important to make sure you get the facts straight before filing a law suit.
Facts About the Scene
It's critical to investigate and find out who was at the scene and when each person was there.  It's good to create a list of the people who were present and collect contact information from each of them.
Find out about what agencies, if any, responded when the bite or attack happened.  Were the police called?  Did animal control arrive and take the dog away?  If there were reports filed by any agencies it's important to get copies or if witness statements were taken you should obtain copies of those as well.  As you collect the information about the scene build a timeline using witness statements and reports to build a timeline of what happened.
Facts About the Accident
Try to compile as much information about the pet owner and the property owner as possible;
Who occupies the property?
Are they an owner, renter, relative of the dog's owner?
Were weapons or drugs present?  Was alcohol involved in the incident?  Was anyone intoxicated?
What exactly where the injuries caused by the dog?  Documenting treatment in the emergency room or doctor's office with an exact medical diagnosis and treatment it critical.
What is the full description of the dog including breed, age, color, distinct markings?
Is there a prior history of the dog biting or attacking anyone?
Were there any pictures taken of the dog, of your injuries, of the scene?
Whether you are the dog's owner, or the victim, it's important to gather as many facts as possible.  Law differ among jurisdictions but in some locations the entirety of the circumstances is becoming a strong factor on how courts rule on dog bits, so knowing as much as possible is key.
Learn about whether the dog owner, or property owner has liability insurance for a dog bite claim.  Even landlords who do not occupy the premises may (depending on the jurisdiction) still have incurred liability if they knew of the dog and permitted it to remain on the property.