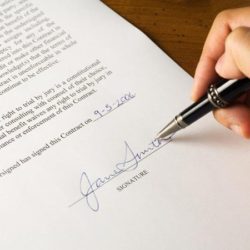 Lawyers would advise their clients to never sign any contract without allowing their legal professional to go through it first. Every business person will need a contract of some kind as some stage in their business, whether it is with clients, suppliers, sub-contractors or a landlord. If the contract has been drawn up by that person's lawyer, you should always get your own lawyer to read through it and find all those hidden clauses that are likely to cause you trouble in time, costs or some other way.
Your legal professional will then rewrite the contract to ensure it works in your favour as much as possible. There are five questions to ask yourself about contracts.
What warranties are included? Warranties are all part of the contract, but if you breach one – don't do what it says – then the other party can terminate the contract. If the contract is one that you've provided, make sure the warranties you offer are things that you can control.
What happens at termination? Contracts sometimes have to be terminated before their term ends, for various reasons. It's important to include what happens in such a case to ensure you are covered financially and legally. You don't want to be left with out of pocket expenses. Or you might rather each party can walk away without any further liability. If so, it needs to be clearly stated.